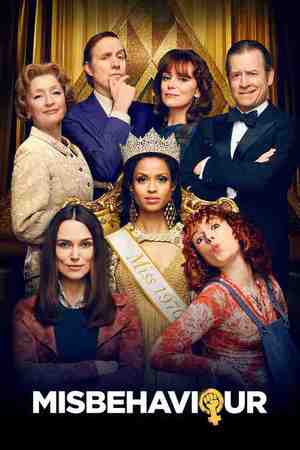 Misbehaviour
Misbehaviour
A group of women involved in the Women's Liberation Movement hatched a plan to invade the stage and disrupt the live broadcast at the 1970 Miss World competition in London, resulting in overnight fame for the newly-formed organization. When the show resumed the results caused an uproar, turning the Western ideal of beauty on it's head.
Genres: Comedy, Drama, History
Actors: Ria Zmitrowicz, Suki Waterhouse, Keira Knightley, Jessie Buckley, Keeley Hawes, Phyllis Logan, Lesley Manville, Rhys Ifans, Greg Kinnear, John Heffernan, Ruby Bentall, Alexa Davies, Lily Newmark, Loreece Harrison, Clara Rosager, Emma Corrin, Daniel Tiplady, Kajsa Mohammar, Stephen Boxer, Justin Salinger, Maya Kelly, Jo Herbert, Ed Eales White, Jonathan Rhodes, Laurel Lefkow, Amanda Lawrence, Samuel Blenkin, Nicholas Nunn, Robert Irons, Jojo Macari, Luke Thompson, Miles Jupp, Polly Kemp, Brig Bennett, Katy Carmichael, Sam Alexander, Clarence Smith, Thomas Smart, Charlotte Spencer, Rupert Vansittart, John Sackville, Lily Travers, Isis Hainsworth, Mary Higgins, Victor Gardener, Nicholas Murchie, Charlie Anson, Jennifer Hosten, Sally Alexander, Jo Robinson
Directors: Philippa Lowthorpe
Writers: Rebecca Frayn, Gaby Chiappe
Countries: United Kingdom
Release: 2020-03-12
N-13
Distribution countries:



Duration: 102 Min.
Quality: FHD
Language:



Subtitles:



6.2