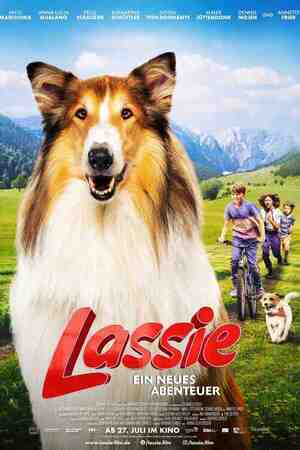 Lassie - A New Adventure / Lassie - Ein neues Abenteuer
Lassie - A New Adventure / Lassie - Ein neues Abenteuer
Instead of spending their vacations in Gran Canaria with their parents, Flo and Lassie are taken by butler Gerhardt to the farm of aunt Cosima in South Tyrol, who lives there with Jack Russell Pippa and her foster children Kleo and Henri. Gerhardt, meanwhile, spends time at the Grand Hotel Sternberg, not far away, and assists the hotel owner Bianca Sternberg there - because he is completely inexperienced at taking vacations.
When Flo, Kleo and Henri learn of missing dogs in the village, they anxiously resolve not to lose sight of Lassie and Pippa. But then Aunt Cosima's house is broken into and Pippa is stolen! Lassie quickly gets on the trail of the thieves, but has to catch them in the act.
Genres: Family
Actors: Annette Frier, Nico Marischka, Anna Lucia Gualano, Pelle Staacken, Dennis Mojen, Xiduo Zhao, Karmela Shako, Ingo van Gulijk, Beniamino Brogi, Karl Drescher, Christina Altounis, Meriam Lounifi, Tyrese Bukenya, Mareile Blendl, Priscilla Wittman
Directors: Hanno Olderdissen
Writers: Andreas Cordes
Countries: Germany
Release: 2023-07-27
Vaikams
Distribution countries:



Duration: 92 Min.
Quality: FHD
Language: