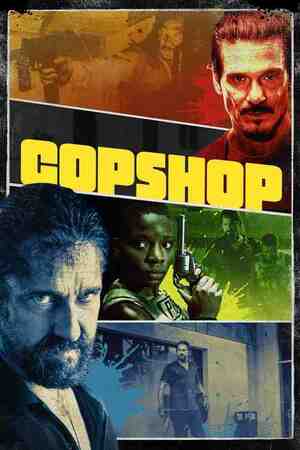 Copshop
Copshop
On the run from a lethal assassin, a wily con artist devises a scheme to hide out inside a small-town police station. However, when the hit man turns up at the precinct, an unsuspecting rookie cop finds herself caught in the crosshairs.
Genres: Action, Crime, Thriller
Actors: Gerard Butler, Toby Huss, Robert Walker Branchaud, Frank Grillo, Alexis Louder, Jose Pablo Cantillo, Kaiwi Lyman, Tracey Bonner, Keith Jardine, Marshall Cook, Christopher Michael Holley, Marco Morales, Chris Kleckner, Karyn Greer, Vanita Kalra, David Vaughn, Alex Rush, Greg Fitzpatrick, Danielle Goz, Jayson Merrill, Scott Putman, Nathan Reed, Nicole Shatz, Armida Lopez, Megan Schmidt, Diann Malcolm
Directors: Joe Carnahan
Writers: Joe Carnahan, Kurt McLeod
Countries: United States of America
Release: 2021-09-09
N-16
Distribution countries:



Duration: 107 Min.
Quality: FHD
Language:



Subtitles:





6.2